One-time infusion. One-to-one treatment support.
ROCTAVIAN is the only FDA-approved gene therapy for eligible adults with severe hemophilia A. This one-time infusion is matched by one-to-one product and education support from BioMarin RareConnectionsTM.
Our dedicated team can help provide support for ROCTAVIAN eligibility testing prior to your prescription and throughout your treatment journey. We help you navigate the insurance process, understand insurance coverage options, identify financial assistance you may be eligible for, and gain access to one-time ROCTAVIAN gene therapy. Learn
how we help
.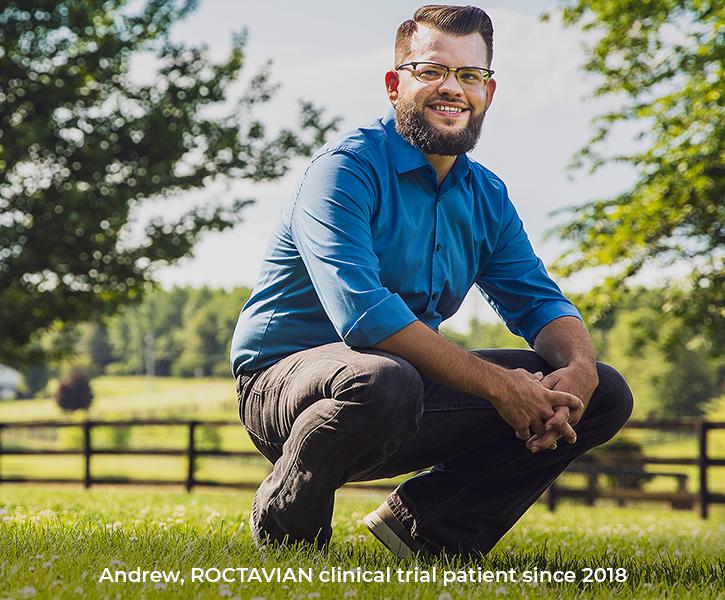 What is ROCTAVIAN? ROCTAVIAN is a one-time gene therapy used for the treatment of adults with severe hemophilia A who do not have antibodies to the virus, AAV5 which is determined by a blood test. ROCTAVIAN uses a modified virus, called a vector, to deliver a working copy of the factor VIII gene to liver cells to enable your body to produce clotting factor on its own, which helps the blood to clot and prevents or reduces the occurrence of bleeding. The modified virus does not contain viral DNA and does not cause disease in humans.
Do not take ROCTAVIAN if you: have an active infection or if you have a long-term infection that is not controlled by the medicines you take; have scarring of the liver (significant liver fibrosis or cirrhosis); are allergic to mannitol (an inactive ingredient in ROCTAVIAN).
Nosotros hablamos español. Aprende más
Enroll in BioMarin RareConnections
Enrolling in BioMarin RareConnections early allows BioMarin gene therapy experts to get involved during pre-treatment ROCTAVIAN eligibility testing, which could help expedite access to this one-time gene therapy. To enroll in BioMarin RareConnections and access ROCTAVIAN as well as product-related services, you must complete the ROCTAVIAN Patient Consent Form (PCF), which grants BioMarin permission to use and disclose patient health information.
Get started
Complete the PCF online:

BioMarin RareConnections provides one-to-one financial navigation and product support for one time ROCTAVIAN gene therapy – including education and support for pre-treatment eligibility testing and post-infusion monitoring for qualifying commercially insured patients.* Learn more about
our services
.
*Valid only for those patients with commercial prescription insurance coverage for products who meet eligibility criteria. Offer not valid for prescriptions, administration, or related labs reimbursed, in whole or in part, by any federal, state, or government-funded insurance programs (for example, Medicare, Medicare Advantage, Medigap, Medicaid, VA, DoD, or TRICARE), for cash-paying patients, where product, administration, or related lab, are not covered by patient's commercial insurance, where patient's commercial insurance plan reimburses them for the entire cost of their prescription drug, administration, and/or related labs, or where prohibited by law or by the patient's health insurance provider. Patients who are residents of certain states (MA or RI) are not eligible for drug administration co-pay support. Patients who are residents of certain states (MI, MN, or RI) are not eligible for laboratory services co-pay support. If at any time a patient begins receiving prescription drug, administration, or related lab coverage under any such federal, state, or government-funded healthcare program, patient will no longer be able to use the BioMarin Co-Pay Assistance Program and patient must notify BioMarin RareConnections™ at 1-833-ROCTAVIAN (1-833-762-8284) to stop participation. Patients may not seek reimbursement for the value of the out-of-pocket expense amount covered by the Program from any third-party payer, whether public or private. The Program is valid ONLY for qualifying patients residing in the 50 U.S. states or in Puerto Rico with commercial insurance who have a valid prescription for an FDA-approved indication for the qualifying BioMarin therapy. This program is not health insurance. Offer may not be combined with any other rebate, coupon, or offer. Co-payment assistance under the Program is not transferable. BioMarin Pharmaceutical Inc. reserves the right to rescind, revoke, or amend the Program without notice. Patient/caregiver certifies responsibility for complying with applicable limitations, if any, of any commercial insurance and reporting receipt of program rewards, if necessary, to any commercial insurer. The Program is subject to termination or modification at any time. Some restrictions apply.